The Yori Evo series extends the Yori family of projectors, and launches the Yori Evo Ghostrack. A new series of game changing track projectors. Mini or medium, visible or invisible. Single or cluster, lenses or reflectors . The optical technologies and the new invisible driver and adapters for 3-circuit standard tracks provide unique configuration ideas that were not possible until now.
---
Yori Evo Box
Accent lighting with endless possibilities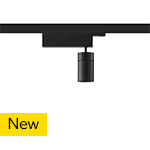 Yori Evo is the latest of the Yori family of projectors with many new features. Now Yori Evo comes with 4 sizes, from the mini to the maxi for different levels of illumination and design aesthetics. The new optics let you decide the effect you prefer in terms of light output, beam angles and intensity. The range of accessories is another addition to the family and provides even more flexibility to the Yori family.
---
Yori Evo Ghostrack
Minimal lighting at its best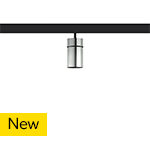 Yori Evo Ghostrack lets you create unique lighting schemes and configurations. Thanks to its brand new patented technology it features an invisible adapter and driver for single or clusters installations on a standard 3-circuit track. The series includes new optics that allow outstanding light output, beam angles and intensity peaks. The range now offer a wider choice of accessories for flexibility and 10 brand new finishes to make your scheme unique.
---